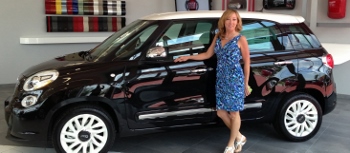 John Miller and I were recently invited to the Houston roll out of the brand new Fiat 500L. After a thorough presentation by the Fiat executives that covered everything from technical changes to marketing efforts we hopped in for a quick spin around the Katy freeway. The Fiat 500L was significantly more spacious than expected. 10% bigger than the Ford Focus and almost 20% larger than the Fiat 500C. It will fit the bill for many families looking for unique style options and a good balance of economy and sportiness.
The Fiat 500L by John Miller
The new 500L is a 5 door version of the popular Italian import that Fiat hopes will allow them to get a better penetration into the young family car buying market.
The base 500, a cute 2 door mini car has been very popular for the last 3 years, reaching a broad demographic of buyers. 55% of the purchasers are male, and more than half are from the Boomer generation. The new 5 door 500L should be able to attract younger small families and more suburban drivers who need the extra space offered in the 500L.
The car comes with one power option, a 4 cylinder, 1.4 liter turbocharged engine producing 160 horsepower. There are 2 transmissions to select from, the standard 6 speed manual, or the European dual clutch auto stick. A fully automatic transmission is promised in the future.
The car is quick and nimble making it fun to drive. Fiat wanted to retain the sporty European feel and did a good job increasing the car size without sacrificing the fun.
Other options include the Beat radio system, navigation, back up camera and heated leather seats.
John Miller, with Freedom Automotive and Lynn Beckwith, with Beckwith's Car Care, host The Car Counselor Radio Show on KPRC 950AM on Saturday mornings between 6am and 8am. Join us with questions or comments during show hours by calling 713-212-5950. You can reach
Pricing starts at $19,100 for the base 500L Pop model and goes up to a little over $26,000 on the loaded Lounge option. Fiat expects the Trekking edition to the most popular of the selections. The Trekking model includes upgraded trim, 6 speed manual transmission with the option to have the dual clutch semi automatic and a list of other options including dual zone air conditioning. This model will price from $20,195 to $25,295.
My personal opinion is go with the 6 speed manual transmission. The European semi automatic is too reminiscent of the Smart car jerky clutch operation.