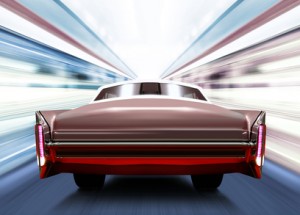 Enjoying Your Older Car
The average age of a vehicle on American roads is constantly on the rise. Vehicles rarely break down and cost more to replace… so we are driving them longer than ever before. It is not surprising to see vehicles over 10 years old that are still safe and dependable to drive.
This brings about an entirely unexpected problem. Our cars are lasting longer than we want them to. Of course I am kidding, but our excuses to purchase a vehicle with new car luster and all of the electronic gizmos that our hearts desire run weak when our "old" car still runs so well. Whether you have been driving her for a while or considering the purchase of a decade old gem the solution is fairly simple – bring ole' Betsy up to snuff with a few simple upgrades.
Headlights
Over time the weather and sun's UV rays degrade the protective coating and underlying plastic of most vehicle's headlight lenses. They become cloudy and frequently have a yellow discoloration. Not only do they look old and dingy, but they also emit less light and can diminish your ability to see down a dark road.
Fortunately, there is a simple and quite easy fix. The plastic lenses can be reconditioned by "sanding" with increasingly finer grit sand paper or rubbing compounds. You can have this done professionally, use a buffer or do this yourself in the driveway by hand- "a little elbow grease goes a long way," as my Grandma Olga used to say. There are kits available at most auto part stores – select one that includes a sealer.
Professional Headlight Restoration Service for both lenses at Beckwith's Car Care is just $49.95
Sound System/Bluetooth Interface/Navigation
The way that our cars integrate with our cell phones has become one of the most exciting facets of new car technology. Face it, safety features are important, but not very exciting until you need them. When driving new vehicles for reviews the tech connection is the first feature I notice. The desire for up-to-date technology motivates many new car buyers to fix small issues with $30,000 or more solutions by buying a new car.
There are countless aftermarket upgrades available that fit your dash and look like they came straight out of the factory. You can spend a couple hundred dollars or upgrade to systems that run more. Having great sound, blue tooth and even navigation is usually only a couple car payments away – much easier than making that payment for years.
Beckwith's Car Care and Raging Bull Customs feature Sony, Rockford and Fosgate systems installed by professionals at economical prices.
Exterior & Interior
Automotive finishes are better than ever and it is likely that your older vehicle still looks pretty good, but if you are noticing dulling of the paint or other surfaces many can be economically buffed, exchanged or reconditioned. Even a complete paint job is more economical than purchasing a new vehicle.
Upholstery, headliners, dash pieces and steering wheels can show the most wear on your vehicle's interior. Many just need a professional detail or cleaning while others need repairs or replacement. This can be inexpensive depending on the degree of customization and the current condition. Be creative in looking at your vehicle's interior – perhaps you don't need completely new upholstery, but just the driver's seat bottom recovered to match the rest. With customization on the rise the interior can also be the perfect place to add a personal touch that speaks of your personality.
Is your vehicle still dependable?
We continually see vehicles with what used to be high mileage – 200,000 miles has indeed become the new norm. Despite their thousands of parts and advanced technology modern cars are marvels of engineering and truly don't break down very frequently.. Be certain to follow a scheduled maintenance plan and keep your fluids and filters clean. With a little attention and upgrades you will have a safe and dependable vehicle that you can ENJOY for many, many miles.
The automotive team at Beckwith's Car Care is always happy to help you evaluate the condition of your existing vehicle.