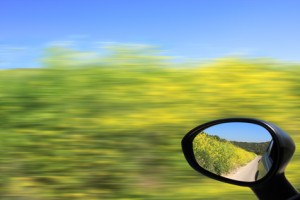 Are you thinking of all things green as March brings us the season of leprechauns, green beer and clover? Maybe it's time for a springtime check over.  Perhaps a replay of George Clooney's film or a reading from Shakespere is appropriate this month? Be sure to find an Irish friend as an excuse to celebrate St. Patrick's memorial on the seventeenth. March heralds Spring and begins a season of warmer weather and budding trees. It has us watching for the flowers soon to come.

Season changes are the perfect time to evaluate your vehicle's health and get it ready for the adventures that Spring will offer. Before you hit the road to the grocery store or embark on your next big road trip adventure check over these simple items on your vehicle.

First walk around your car and check your tires. Turn the wheels outward first on one side and then the next so that you can inspect the sidewalls of your tires both on the outer and inner surfaces. Look for cracks, bulges and exposed metal bands. Don't rely on tire monitoring systems, manually check the air pressure with a good quality guage and be certain that the tires are inflated to the pressure indicated on the decal inside your driver's door, not the pressure on the tires themselves. Note that on many vehicles it will be different on the front than on the rear.
Now, pop that hood. It can be confusing under there these days, but it is important to check and top off your fluids. From windshield washer fluid to oil and other lubricants the secret to your vehicle's longevity lies in keeping these fluids full and fresh. Pay attention to their condition and use a combination of the way they look and the number of miles since their last service to determine if it is time for a fluid flush.

While you are looking around under the hood take a good look at your belts and hoses. Cracking rubber can be an indication of age. Our hot Texas summers are hard on the rubber components in your car. It is particularly hard to determine when  hoses are going bad. A sure warning of coming failure is a bulging hose or crackling noises when you squeeze them. Check your windshield wipers too as Spring will bring some wet weather.

Pay attention to where you park and watch for fluid spots that could be an indication of a leak. Take a look under your vehicle for drips and if you notice anything other than clear water from your air conditioner take the time to get it checked by a professional.

Now, hop in and take a drive. Turn off your radio and pay attention to your vehicle. Do you notice any noises when you roll over a bump or while steering? How do your brakes feel and sound? Noises tend to get worse and the problems they indicate get more expensive, so pay attention as your vehicle talks to you.

You can download a simple vehicle check list at ThatCarLady.com or email your questions to Lynn@ThatCarLady.com.

Wishing you miles and miles of happy Springtime driving,

Lynn Beckwith, That Car Lady