Change your oil. Change a life.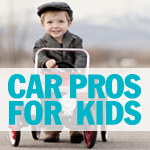 Make a minimum donation of $35 to Child Advocates during the month of February online or at one of the participating Car Pros for Kids locations and receive two free oil changes to be used on the same vehicle any time this year.
Select Beckwith's Car Care for your location and donate online and to receive your two free oil changes any time this year!
Click Here to Donate Today and Receive Your Free Oil Changes