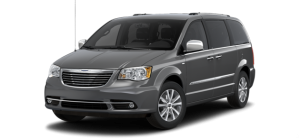 Nascar Mini-Van  The 2014 Chrysler Town and Country – 30th Anniversary Edition  – She Said:
With 283 horses powering this family hauler, both Mom and Dad are going to enjoy the acceleration in the 2014 Chrysler Town & Country. While not optimistic that the beefed up drive train alone takes this vehicle past "soccer Mom" distinction: the addition of stylish exterior lines and an amenity rich interior add to its transformation. This vehicle is a solid pick for families, and was even selected by The Texas Auto Writer's Association as Family Car of Texas.
Loaded with safety and luxury amenities, the Town & Country upstages it's almost twin brother the Dodge Caravan.  The Dodge is a great option for the budget conscious. The base Town & Country Touring model  features alloy wheels, power adjustable pedals, three zone automatic climate control, leather upholstery, DVD entertainment system, back up camera, U-connect blue tooth and digital music storage, and a dynamic seating and storage compartment with fold-flat rear seats.
Moving up through the Town & Country model ranks, we drove the 30th Anniversary Edition featuring additional amenities including blind spot monitoring, automatic high beams, rear parking sensors with cross-path detection, second row captain chairs, keyless entry with push button start, leather and wood steering wheel, heated seats and steering wheel, navigation, a 9 speaker sound system and Alcantara suede interior accents. Many manufacturers are releasing luxury mini-vans, but you would have to open your wallet by thousands more to get a comparably equipped competitor.
While not ready for the race track, you will be quickly surprised by the handling of the improved suspension and pick up of the power train on the Town & Country.  With standard stability control, a Pentastar  3.6 Liter V-6 283 horsepower engine, 6 speed transmission and trailer sway control this vehicle will be as comfortable twisting through mountain roads on your family vacation as it is sitting in the car pool line.
Happy driving!
Lynn Beckwith
That Car Lady, KPRC 950 AM Houston
2014 Town & Country 30th Anniversary Edition – He Said – by John Miller
Driver controls were intuitive and while the gear selector takes a drive or two to get used to, you will be loading this minivan with family and gear and enjoying a quiet smooth ride in no time.
Thirty years ago Lee Iacocca brought two fundamental changes to the American car market. The Caravan changed the American motoring landscape with the introduction of the first family use, family friendly mini-van. Since then Chrysler has sold more than 13 million copies of the model worldwide. The second change was the buyer's rebate program that drastically changed the way buyers look at car pricing and purchase.
The Town & Country, Voyager and Caravan breathed life back into Chrysler at a time when it was bearly surviving thanks to government loan. Today the line remains a mainstay of the Corporation, selling more than 200,000 copies a year.
Our test car was the 2014 Town & Country 30th Anniversary Edition priced at $34,165 with options pushing the price to $37,885. While a far cry from the price of the original caravan it is well priced for what you get. In 1984 a Caravan would cost $9,105, and when adjusted for inflation that would be $20,106 in today's dollars. When you consider the added features, better engine and transmissions, safety equipment and life expectancy of the 2014 model it is a great buy.
The 30th Anniversary Edition comes standard with a 283 horsepower V6 and 6 speed automatic transmission. 1984 offered 96 horses with a 3 speed transmission. Fuel economy is good with a rating of 17 city and 25 highway. Other standard equipment included; blind spot and cross traffic monitors, back up camera, automatic high beam control, active head rests, multi stage air bags, side curtain, front seat and knee bolster air bags, advanced collision control, remote start and keyless entry, stability control and anti-lock brakes, rear seat entertainment with DVD player, 3 zone air conditioning control, power door locks and windows, 17 inch wheels, power side sliding doors and rear hatch. It also has Uconnect with a 6.5 inch touch screen and a 40 gig hard drive to store your personal data, pictures and music.
Our test car included the optional power folding mirrors, leather trim with Alcantara inserts, 30th Anniversary badges and trim, heated front and rear seats, keyless start, and power folding third row seats.
Driving the Town & Country is pleasant with a smooth ride, easy steering and cornering and decent acceleration. There is really nothing to complain about as far as performance goes. We don't expect a hot rod when we buy a mini-van. The real Town & Country experience begins when you use the features offered in the package.
Designed for the young family this car will meet all the expectations. It's easy to get the kids in with the dual sliding doors. No more hunching over to fasten little Johnny into his car seat. There is enough room for groceries in the rear, with the seats down, and room for most of the little league team with them up. The DVD offers distractions for the kids as you run errands and the roominess will help prevent the "she touched me" fights. There is even a built in car seat mirror to watch the little rascals.
The safety features are vital in the Town & Country. As it is designed to haul families, Chrysler wanted to ensure that they were as well protected as modern technology could make them. The incorporation of blind spot monitors, back up camera and cross traffic waning help to prevent to most common accidents. Stability control and anti-lock braking help keep the car under control and should things go horribly wrong the 4 star overall and 5 star side impact cash ratings give you a little peace of mind.
Traditionally mini-van drivers are the least image oriented buyers, but with this Anniversary Edition you get not only a very functional vehicle but a classy one too. I rate the 2014 Town & Country Anniversary Edition as a great buy.
John Miller
KPRC 950 AM Houston
The Auto MOJO Radio Show  Saturday mornings 6am to 8am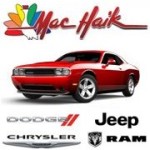 ep pos
Mac Haik Chrysler, Dodge, Jeep and RAM
Don Ruguleiski
11000 North Fwy, Houston, TX 77037
(281) 915-1220