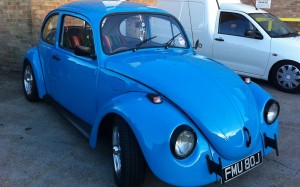 "If a man was non-mechanical, it was a personal accident of temperament; if a woman showed the same deficiency, it was a sex characteristic." Nancy Barr, Sunset magazine, 1927.
Although the motor industry is by and large still a man's world, there are female enthusiasts breaking in to every car scene, proving it doesn't come down to gender to determine whether a person is mechanically-minded or not. It's mostly a personality characteristic and a fact, that some women like cars too.
Building Beetles and breaking down barriers
A group of women from VW Heritage on the South coast of England got together at a Volksworld Show, to build a Beetle from just a box of spare parts. It was a monumental project, and one which took a lot of preparation. But in just two days, three women – and one handy guy who built the engine – had bought the little VW Beetle to life.
It was an important project for Jo Hamshaw and her co-workers. Not only did it teach them valuable lessons when it comes to restoring a classic motor – enabling each of them to go on to do many more restoration projects of their own – it also helped break down preconceived barriers about what is considered to be a job for the boys.
Female motoring movers and shakers
Caroline Lake who runs the only female-owned garage in the UK in a BBC Radio 5 interview said women have many qualities which make them skillful mechanics.
"They tend to be more patient, they are great problem solvers. They will discuss issues rather than throw a spanner across the workplace. They are very dextrous. It is a fiddly job, and as engines become more and more complicated, there is less room. Women have the advantage as they 'generally' have smaller hands."
Despite this, only 1.2 percent of automotive service technicians in the United States are women.
Vice president of marketing for Merchant's Tire & Auto Steve Steffens says there should be more female technicians in the industry.
"The tire business is still viewed as a man's world, and this is unfortunate because the women techs we have are very good. They are detail-orientated and very customer-focused, which is hard to find in a technician."
The automotive industry has been an exclusive men's club since its inception. And an almighty myth was handed down through the generations thanks to people like Michael Berger who coined the term 'women drivers' in the 1920s, describing women as 'possessing the nervous imperturbability which is essential to good driving. They seem always to be a little self-conscious on the road, a little doubtful about their own powers."
However, despite these crippling attitudes the female population has empowered themselves quite well, with studies showing that women are responsible for 44% of all new car purchases and spend up to US$81 billion on new cars each year.
Along with such movements as the appointment of the first female CEO in the motor industry, Mary Barra, who will take front seat at General Motors in January 2014.
That's a whole lot of driving power!
From one female mechanic to another
Jo Hamshaw is one of the many female car enthusiasts making in-roads into the male dominated motoring world. Along with the Volksworld Show VW Beetle restoration project, she has lovingly restored a 1957 Splitscreen, 1971 Beetle, 1991 Golf MK2 and a 1998 T4 Transporter.
Any tips for women out there wanting to restore a timeless piece of machinery?
"There is no difference between a woman and a man working on a car. There are plenty of women out there in all motoring circles. Just get on with it. There are plenty of resources for anyone wanting to get involved in a restoration. Don't let anyone tell you that you can't."
Megan McAuliffe is a writer, journalist and blogger covering ethical and sustainable issues in lifestyle, community and culture. You can find her on Twitter @MeganEditorial