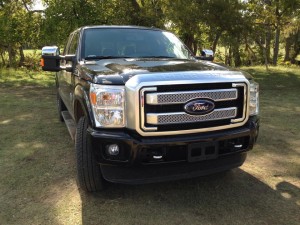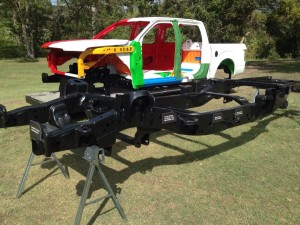 In a state that has made the pick up truck a staple of everyday driving and luxury the coveted Truck of Texas award is taken very seriously. Every year the manufacturers bring the best of their line up for automotive journalists to put through the paces. This year's truck rodeo competition took place at the Knibbe ranch near San Antonio Texas. Automotive journalists from all over Texas drove a line up of 75 vehicles through street and off road conditions. So, who has the best truck? All the manufacturers made a great showing with powerful drive trains, surprising fuel economy, and, of course, impressive amenities. Whether you are looking for a SUV, a commercial work truck, or a pick up truck to tow your new RV you will find it in the results below.
-Lynn Beckwith, Auto Mojo Radio KPRC 950AM Houston
Press Release from TAWA
Ford F-150 Named Truck of Texas at 2014 Texas Auto Writers Assn. Truck RodeoThe all-new Ford F-150 was named Truck of Texas at the 2014 Texas Auto Writers Association (TAWA) Truck Rodeo."This year, the Texas Truck Rodeo had a record number of vehicles on hand for our members to evaluate,' said Michael Marrs, president of TAWA, "We want to thank all of our partners in the automotive industry as well as sponsors for making this such a great event."Sixty auto writers drove 75 vehicles on and off road for two days (Oct. 9-10) at the Knibbe Ranch outside San Antonio to choose the prestigious Truck of Texas. This year's Texas Truck Rodeo, which was sponsored by the Steel Market Development Institute, also saw the 2015 Lincoln MKC take the CUV of Texas; the 2015 Jeep Grand Cherokee capture the SUV of Texas title for an unprecedented fifth straight year; and Ford being named the Truck Line of Texas.Doug Scott, marketing manager of Ford's truck group, said, "This is a significant honor, one of the three big ones along with the Motor Trend and North American Truck of the year awards. Our entire truck team is proud and honored to win the Truck of Texas trophy."Winning the Compact Crossover Utility Vehicle (CUV) title was the 2015 Honda CR-V Touring; the 2015 Subaru Outback 2.5i Premium was named the Mid-size CUV; the 2015 Kia Sedona SX was named Full-size CUV; and the 2015 Lincoln MKC was named Luxury CUV.Stephane Cesareo, Lincoln Global Communications Manager, said, "It's been a long time since Lincoln participated in the TAWA Truck Rodeo and we will definitely keep coming back. I had never been to Texas and have really enjoyed meeting the friendly members of TAWA and seeing some of the Hill Country of Texas."The 2015 Jeep Cherokee Trailhawk was named Compact Sport Utility Vehicle (SUV); the 2015 Jeep Grand Cherokee Overland 4×4 was named Mid-size SUV; the 2015 Chevrolet Tahoe 4WD was named Full-size SUV; and the 2015 Range Rover Evoque 5-Door was named Compact Luxury SUV."We are extremely delighted and proud that for the fifth consecutive year, the respected and influential Texas auto writers have named the Jeep Grand Cherokee the SUV of Texas," said Mike Manley, president and CEO of Chrysler Group's Jeep Brand.The 2015 Jeep Grand Cherokee Summit EcoDiesel 4×4 was named Mid-size Luxury SUV; and the 2015 GMC Yukon Denali was named Full-size Luxury SUV. The 2015 Jeep Wrangler was named Off-road SUV.Mid-size Pickup Truck title was won by the 2015 Chevy Colorado Crew Cab; and Full-size Pickup Truck was the 2015 Ford F-150 King Ranch. Luxury Pickup Truck was the 2015 Ford F-150 Platinum; and Heavy Duty Pickup Truck was the 2015 Ram 2500 Laramie Longhorn. Off-road Pickup Truck was the 2015 Ram Power Wagon.Commercial Vehicle was the 2015 Ford Transit 250. Other winners in the competition included: Best Connectivity, Chrysler Group's UConnect Access; Best Powertrain, Chrysler Eco Diesel Engine; and Best Technology, 2015 Ford F-150 King Ranch high- strength military-grade aluminum body.The Texas Auto Writers Association (TAWA) was founded in 1987, with a mission to promote quality and accuracy in automotive journalism and disseminate information about the industry through news related print, online and broadcast media. For more information, please visit www.texasautowriters.org. TAWA's communication are powered by PR Newswire.