Even in Blue Streak Metallic, the 2015 Scion tC Hatchback does not have the muscle car magic that those of us in our 50's are looking for, but it holds it's own brand of millennium MOJO that many under the 30 year mark will find quite desirable. Folding  a remarkable amount of room into a sporty coupe, its ready and easy to customize. This vehicle is positioned perfectly for Scion's target market of new drivers, college students, young couples making their first new car purchase, and simply the young at heart.
Both new drivers and their parents will love the compromise of sporty looks with moderate power.  The Scion Tc will keep your teen driver's attention with dynamic shift patterns and a sporty exhaust, but not overwhelm them with power that could increase their opportunities to find trouble. With a slight rev on downshifting and noticeable, but not annoying volume the Scion Tc has character. College students will find it has more than enough cargo space to haul 6 weeks of dirty laundry home for Mom to clean and then turn around with clean folded clothes and their brother's guitar and amp (assuming they can escape the house without his notice). With almost 42" of front leg room and 34.5" in the rear this two door coupe can carry a young couple through the early years of raising their family in surprising comfort. The back seat is comfortable, sports a lot of room and even reclines, but remember this is a two door and not a great option for older teens or adults.
Powertrain
A 2.5L DOHC  4 cylinder provides the power of 179 ponies. Personally, I'd couple it with the 6 speed manual transmission, however the 6 speed Automatic in this test vehicle was fun to drive. With base pricing right at $20,000 you have plenty of room for upgrades.
Exterior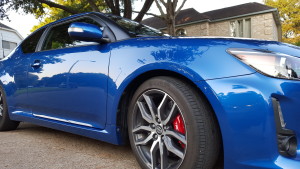 While it looks sportier than it actually is, The Scion tC's exterior is sharp, low slung and attractive. With an assortment of Toyota Racing Division upgrades this coupe will appeal to primarily young drivers. With color selections like Magnetic Gray, Cosmic Gray, Black, Blizzard Pearl and Cement, our featured vehicle sported the most dynamic paint in Blue Streak Metallic.
The most notable exterior feature is the standard panoramic glass roof with front power tilt and slide moon roof. LED lights accent this vehicle with LED Turn Signal Indicators in the power outside mirrors, LED Front bumper accents and Rear LED Stop lamps.
Interior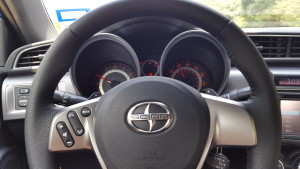 The sporty feel finds its way into the interior noticed first in the race style steering wheel, padded seat bolsters and driver focused dashboard. While decidedly not a high performance vehicle the Tc does a remarkable  job of pretending.
Comfortable seating transfers to the back seat with easy access, better than normal leg room and the rear hatchback door helps you capitalize on the tC's expansive cargo space.
Toyota Racing Division: TRD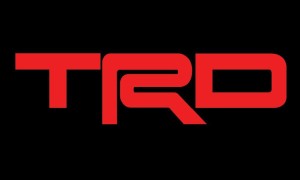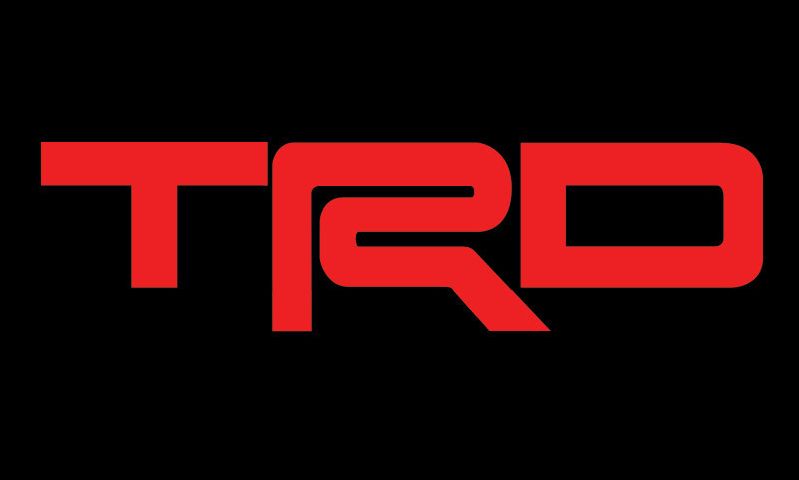 The TRD upgrades were a huge contributor to the sportiness of this otherwise practical coupe. From the low profile rear spoiler to the performance exhaust these finishing touches will capture your attention and truly enhance this vehicles fun factor. With over $6000 in TRD upgrades, from fog lights, TRD springs, TRD Air filter, TRD performance exhaust, Strut tie bar, and vented front brakes with bright red calipers one would expect a burst of power. Consider these options a bit of an illusion as the overall feel falls short of it's sporty image.
The 6 speed transmission programmed with dynamic rev management gives an interesting punch as it down shifts through gears. Fuel economy ratings are bashed compared to other compact economy cars, but this is not really positioned as an economy vehicle. It's more comfortable, stylish and sporty than some and at an average of 26mpg it fairs better than the competitions sporty models.  23 City/31 Highway.
Least needed option is the over $1600 brake upgrade. This vehicle is light and not fast enough to warrant the upgrade. The standard braking package features large vented rotors and unless you are headed to the track (or driving like you are on one) it is more than adequate. The $99 leather shifter  knob is attractive, but overpriced. (Come on Scion – throw this one in).
Bumps, potholes and road noise will remind you that you are in-touch with the road, but the exhaust enhancement, balanced feel and tight steering add to the ambiance of a sporty coupe that you can still haul your gear and family in. The six speed manual would be a good choice to add to your driving fun factor.
Value
With standard features that include a touchscreen display, panoramic sunroof and bluetooth the Scion tC  packs technology and a power train sporting a reasonable fuel economy rating into an attractive and practical vehicle.
Outstanding standard features:
Comfortable back seat and large cargo area
Panoramic Sunroof
Brake assist and Smart Stop Technology – not what it sounds like, but still shows value for an inexperienced driver
Race Style Steering Wheel
Outstanding options:
Bespoke Sound and Navigation System – sounded great – nice speaker system  Limited equalizer controls. A "sound" investment! $1200
TRD accents for a sporty look
The Good
Tons and tons of space. Comfortable back seat with reclining seats and a huge cargo area
The Maybe Nots
Don't be fooled by the 8.1" center console screen – disappointing resolution
Low profile spoiler $445
What's will be new on the 2016 Scion tC? Read more here:
2016 Scion tC Upgrades Make for Alluring Touring
happy driving,
Lynn Beckwith, That Car Lady
KPRC 950AM Houston, The Auto MOJO Radio Show