One of the hardest things about driving vehicles for manufacturers is changing your perspective to that of their intended market. Having a propensity towards hot rods it took an adjustment to my perspective to properly enjoy the 2015 Toyota Highlander Limited Platinum AWD. So…after a deep breath, I tuck away the empty-nest mentality and pretend to be a soccer Mom.
Guess that means the first stop is Starbucks?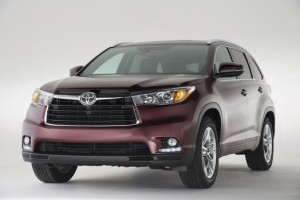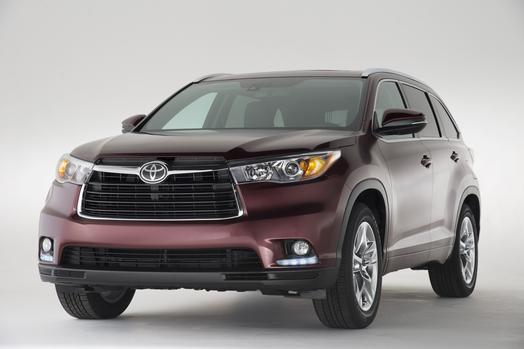 The exterior styling is fresh (redesigned in 2014), nothing like the 1st and 2nd Generation Highlanders. With swooping body lines it will even keep a soccer Dad from looking like he wears a skirt. Unlike the earlier editions features like curved edges, detailed styling and LED daytime running lights create a very attractive Family Sized Crossover. Clad in Ooh La La Rouge metallic paint this Highlander's striking, curved body panels present a sporty appearance.  Toyota must have a very special department creating their exterior color names including Alumina Jade, Attitude Black, Blizzard Pearl, Crème Brulee Mica , Nautical Blue, Predawn Gray and Shoreline Blue. The Ooh La La Rouge covering our test vehicle is actually a very classy burgundy that shimmers under the sun.
Do I need to put on really big sunglasses and a baseball hat?…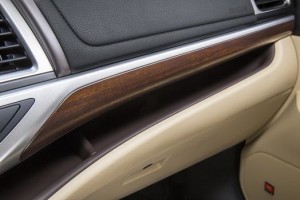 Moments after plopping into the firm and comfortable perforated leather seats it is evident that the $46,718 price tag is justified by lush amenities well in line with the manufacturer's Lexus products. Brown, black and wood grained accents create a front row that is nothing short of luxurious with a notably well designed dash. By combining non-symmetrical curved lines Toyota created a long, useful soft paneled shelf that stretches from the steering wheel to the passenger's door. In addition to holding everything from your cell phone to your pistol, features like a port to feed your charging cables through make this one of the best dash designs I've seen.
Coffee in hand, and it time to check out the rest of the interior while I wait for the mall to open…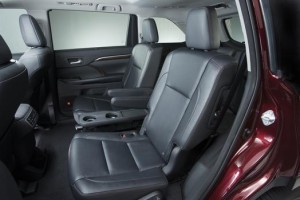 Second row seating gives you options of bench or captain chairs. The captain chair configuration allowed easy access to the limited third row seating.  Exceptional leg room and reclining second row seats make the Highlander a comfortable vehicle for 4 to 5 adult passengers. While not my first choice for large families, this crossover stretches itself into a third row that allows flexibility for those who occasionally need extra seating up to 8, just make sure three of them are on the smaller side. Don't let the plastic pop-up cup holder between the 2nd row captain chairs throw you, while it's not pretty it is easy to move out of the way for third row access and quite useful.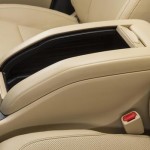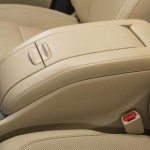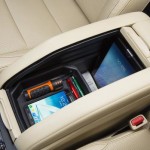 Perhaps it's a throw-back from driving older cars and standard transmissions, but my habit of using the right arm rest was interrupted while driving this otherwise comfortable vehicle. While large enough to hide your purse or morning shopping from potential window watchers the split sliding cover on the center console reminds me of my Grandma's roll-top-desk. Positioned on top of what should have been a soft arm rest the sliding doors opened when I did not want them to.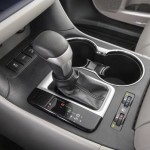 Toyota's most advanced three-zone automatic climate control system adjusts specifically for the driver and front seat passenger with a third control adjusting the second row cabin area and separate vents for both the second and third row seats.  The climate controls were more intuitive than most and notably a dial adjustment allowed for easily switching between heated and cooled seats.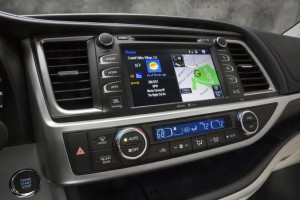 The 8.1 inch display housed Toyota's Entune Premium JBL Audio with Navigation. It's high resolution split screen display intuitively seemed patterned after our cell phones and included weather, traffic and media options. While it would not excite a stereo enthusiast, the JBL sound package was balanced and adequate with excellent ergonomic controls on the steering wheel including thumb controls for advancing through music, volume adjustment, voice activation for calls and text, and menu adjustments. In addition to Toyota's Advanced Voice Control the Limited Highlander's Driver Easy Speak allows the driver to easily communicate with passengers in the third row. No more twisting in your seat or yelling "No, we are not there yet," just a simple touch of the screen and the intercom will broadcast your calm, normal voice to the second and third row. Voice recognition was a decided step up from Toyota's base models, but do take the time to work through the vehicles voice recognition program for optimum results.
Shopping (I'm not pretending) is done, and its almost time (still pretending) to pick up the kids from school…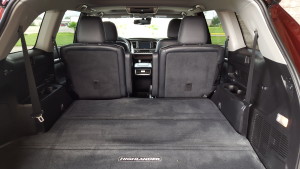 While there is plenty of room behind the third row seats for a short stop at the store, your more fruitful shopping excursions require a quick flip of the back row seating. Still with plenty of space for the kids in the second row the cargo area now bumps from 13.8 to over 42 cubic feet. If your shopping includes the hardware store, let the kids walk home from school and with over 83 cubic feet the 2015 Toyota Highlander leaves you room for the new Dewalt tools you just picked up for your hubby.
Yeah right! Those tools are totally for me! Time to pop the hood…
While Toyota offers a 4 cylinder in its base LE package the miles per gallon savings is virtually non-existent with the 4 cylinder coming in at 20/25 and the 3.5L V6 in the LE Plus, XLE and Limited models with front wheel drive version offering just 1 mpg less coming in at 19/25.  Add all wheel drive and this rather large and heavy vehicle still pulls a respectable 18/24.
Do you want to drive this new Highlander for the hundreds of thousands of miles that we know Toyota's are known for? Then please ignore Toyota's normal driving recommendation of a 10,000 mile oil change interval (especially if you live in Texas) and service your vehicle on a more aggressive maintenance schedule.
Is it time for more coffee now?…
Stacked with outstanding safety features like lane departure and pre-collision technology, along with luxury features including adaptive cruise control and perforated leather trimmed heated and ventilated front row seats the 2015 Highlander stacks up to its competitors with a dynamic statement that goes far beyond practicality. The uni-body chassis and 6 speed transmission make this SUV easily maneuverable and smooth. Combine that with the flexibility of third row seating when you need it and Toyota's dependability and re-sale value the 2015 Highlander should be on your list of family SUVs.
Starting at 29,765 this 2015 Toyota Highlander Limited Platinum AWD stickered at $46,718.
The Good
Smooth ride
Flexible seating and cargo
Luxurious cabin
The Maybe Nots
Third row limited to small children or short rides
Center console needs to be re-designed
happy driving,
Lynn Beckwith, That Car Lady
KPRC 950AM Houston, The Auto MOJO Radio Show