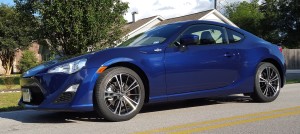 With beautiful oceanic blue body lines shining under the Texas sun the 2016 Scion FR-S had me reminiscing about a previous year's model and the simple joy I found in traipsing through the Texas Hill country. With its Boxer engine sitting low on a solid suspension this vehicle is designed for the sports car enthusiast who has just a small mix of economic brain cells mixed in with the "I wanna go fast…" ones.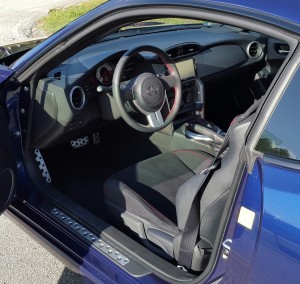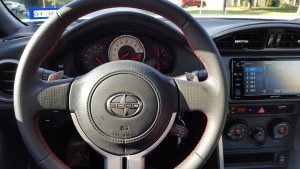 Buy this car before arthritis sets in as the low slung bucket seats are just over 15" off of the pavement. It is well worth the effort as once you are settled the race inspired bucket seats hold you comfortably tight with strong shoulder and hip bolsters. Everything in the cockpit is compact and focused on driver's control, you will feel like you are going fast before you touch the race inspired pedals.
Leather details abound, including the leather wrapped "drifting brake" cover.
While I'm not as impressed with the automatic transmission in this tester as I was with the manual in a previous year's model, it's eight speed automatic has aggressive shift points and even comes with paddle shifters for more driver control. The dynamic rev management system creates a nice exhaust sound on down shifts. Still…it does not feel as powerful as when you are shifting it yourself. Be sure to drive both options when you go shopping for this car, the manual shift will have you "head over heals" for the Scion FR-S.
2016 brings huge improvements to the infotainment system in the Scion lineup. The large 7" touch screen display loses all the clunky buttons of last year's models and is a significant upgrade to the previous screen in clarity.
Scion kept the sports enthusiast in mind throughout the design, powertrain and aesthetic choices in this fun to drive and economical car. Remember, it really is a sports car – shift it! You will feel like you should be watching your rear view mirror for police lights!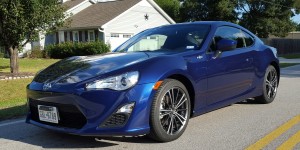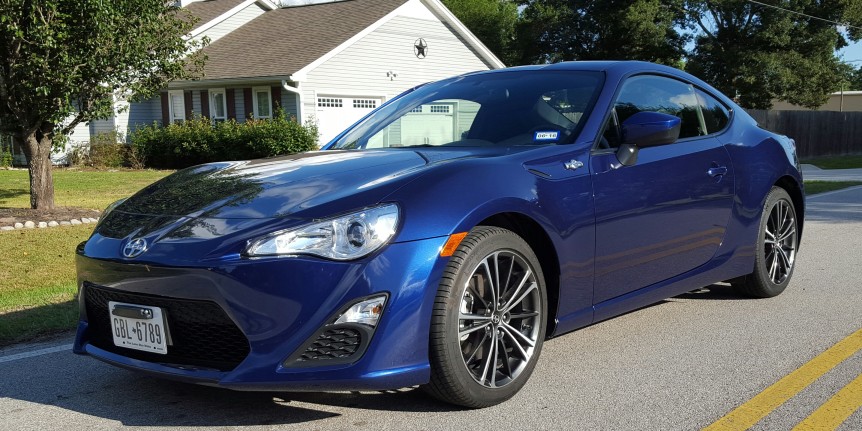 Wishing you miles and miles of happy driving,
Lynn Beckwith
About the Author
With over a quarter of century in the car industry, journalist Lynn Beckwith helps radio listeners across the nation understand the sometimes befuddling world of automotive issues on The Auto MOJO Radio Show, KPRC 950AM Houston every Saturday morning. Listen to podcasts and follow Lynn at www.ThatCarLady.com    www.twitter.com/thatcarlady   www.facebook.com/thatcarlady