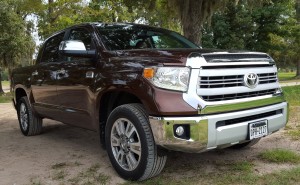 Whether you were born in Japan, Michigan or any other country or state, once you settle in Texas you can't help but wonder why it took so long to get here. Like so many Texas transplants, Toyota has come to call Texas home. Always thought of as an Asian import, Toyota is now very proud of their all-American assembly and embraced their new San Antonio home by paying tribute to Texas history with the 1794 Edition 2015 Toyota Tundra.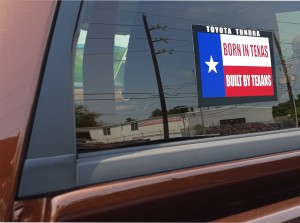 The San Antonio plant sits on land that was once the oldest working cattle ranch in Texas. Spanish colonist Juan Ignacio de Casanova founded the JLC Ranch in 1794. Personally, I'm glad they chose to honor the date instead of adorning the Tundra with truck jewelry with "JLC"or "Cassanova" all over it. With one in every five new pickups being purchased right here in the Lone Star state, Toyota's Texas targeted market is warranted.
2015 Toyota Tundra – First Impression
Nothing short of "huge" will describe the first impression of this 2015 Toyota Tundra 4×4 1794 Edition pick-up truck doused in sparkly "root beer" paint. Its actually Sunset Bronze Mica. Boxier body lines than the previous generation Tundra and hefty interior controls, door handles and monstrous shifter contribute to its brawny, truck like feel. More than a bold statement, the Tundra's controls are designed hefty so they can be operated while wearing work gloves. You can't help but be overwhelmed by the sheer roominess of this luxury truck. The brown and black leather trimmed interior is somehow beautiful and masculine at the same time. Once you plant your back side in the heated/ventilated leather trimmed seats and play with the every which way (12 way) power adjustments, link the premium JBL Audio system to your favorite tunes and finally twist the key you are in for another pleasant surprise – a nicely tuned exhaust note powered by a gas guzzling, but powerful V8. The badge still says Toyota, but this is all Texas truck.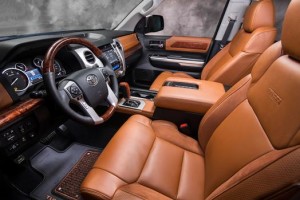 Sitting across the expansive center suitcase (errrhhhh… I mean console) I felt like I would need to shout for my co passenger to hear me. Don't be mistaken the Toyota Tundra is a luxurious and quiet vehicle,  it was the sheer cavernous space that caught my attention. Which brings up an increasingly important feature in all vehicles, how much of our stuff can we store? With seven cup holders, a dash shelf, multiple storage shelves in the console and a groovy phone tray in the whopping center console the new Toyota Tundra has you covered.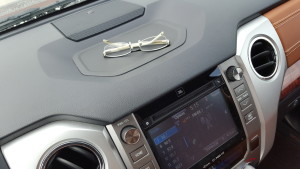 Toyota's Entune Premium JBL Audio with navigation and plenty of fun apps worked seamlessly with its 7″ touch screen and worked most of the time with voice commands. With 12 Speakers providing a full and more than adequate sound. The infotainment system was surprisingly simple to use, but sometimes difficult to see as the screen angle facilitated too much glare.
With many vehicles more miles and time means finding more faults. The opposite held true with the Toyota Tundra. Not certain if it was the expansive interior or knowing how much gasoline this vehicle was guzzling, but I spent the first several days behind the wheel, frankly, not really loving it. As the wheels and odometer turned through both miles and days of driving I found more and more to like about this truck. In short order the Toyota Tundra captured my attention with its true truck characteristics, solid drive, responsive steering and throaty exhaust.
Tundra Powertrain
Don't be fooled by its luxurious interior, with more than adequate power, plenty of torque and towing capacity this truck feels just like a truck is supposed to feel. Push the pedal and the power you need for highway acceleration or traversing a rocky hill is immediately transferred right to the wheels. The Toyota Tundra's traction control and stability control systems utilize an automatic limited slip differential that even utilizes the vehicle's brakes to control traction and wheel spin. Engineering differences in hard components such as the heavy duty gearing and transfer case should enhance its durability. Yes, Toyota is playing with the big boys with this hefty workhorse of a truck.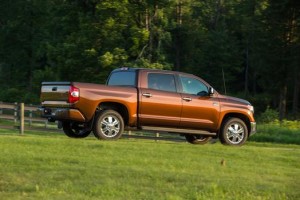 Equipped with a 5.7 V8 the fuel gauge seemed to visibly fall while driving the Tundra. Surprisingly, some independent testing shows the biggest fuel economy difference between the Tundra and its largest competitor the F-150 was at highway speeds with the Tundra pulling 17.3mpg and the Ford coming in at 22.8mpg. However, if you will be driving your truck on a ranch, in the city, or using it to tow; in other words, using it the way a truck is meant to be used, the margin of fuel savings narrows considerably with Ford coming in less than one mile per gallon stronger. Depending on how you plan to use your truck the fuel economy difference may be smaller than you would first expect and in the meantime you will be driving a solid vehicle that feels and sounds like a truck should.
"As the wheels and odometer turned through both miles and days of driving I found more and more to like about this truck. In short order the Toyota Tundra captured my attention with its true truck characteristics, solid drive, responsive steering and throaty exhaust." – Lynn
For Details, Specifications, and Model Options- Toyota Tundra: The All-America Full-Size Pickup Goes All V8 and "Pro" for 2015 – Just Click Here
Option to think twice about:
Remote start can be very convenient, but many vehicle owners rarely actually use this feature. It will be most handy if you live in a cold climate. but coming in at $500 this option may not be worthwhile for many drivers.
Options to say yes to:
The factory spray in bed liner is a bargain at $529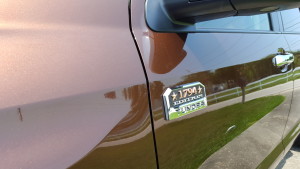 Always upgrade to the audio and infotainment system you really want from the factory. Aftermarket upgrades are not a good option on brand new vehicles as they are integrated systems with security and are frequently require programming. Audio and connectivity are worth the initial investment at the time of new vehicle purchase. Toyota includes the Premium JBL system in the 1794 Edition package and it either comes with or can be added to the other Tundra models.
Wishing you miles and miles of happy driving,
Lynn Beckwith
About the Author
With over a quarter of century in the car industry, journalist Lynn Beckwith helps radio listeners across the nation understand the sometimes befuddling world of automotive issues on The Auto MOJO Radio Show, KPRC 950AM Houston every Saturday morning. Listen to podcasts and follow Lynn at www.ThatCarLady.com    www.twitter.com/thatcarlady   www.facebook.com/thatcarlady