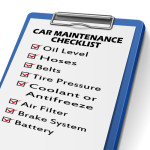 For quite a while we saw auto makers lengthening service intervals between oil changes and many other maintenance items. Some of this is justified as chemicals and fluids have improved dramatically.
Unfortunately, they went a bit too far and started to see increasing wear issues, even to the point that their warranty related costs were increasing. In the independent repair sector we saw a range of customers who adopted the longer intervals and were facing more repairs. "Over the last decade almost all manufacturers have extended their recommended service intervals for longer mileage between even the most routine maintenance. Some have stretched out the mileage for a basic oil change to 10 or 12 thousand miles. At the same time the trend in the industry was to offer longer power train warranties. This has not worked out well for the car makers," according to John Miller, Co-host of the Auto Mojo Radio Show on KPRC 950AM. 
 Thankfully over the last couple of years the auto makers are changing their minds and their service requirements.
General Motors has recently reduced their oil change intervals to less than 7500 miles and even re-calibrated their warning lights and systems to remind consumers of services in shorter mileage and time intervals. Older calibrations were notorious for going 9000 to 12,000 miles. The newer calibrations are much shorter, frequently triggering service at 4000 to 5000 miles. Warranty issues became so prevalent that they increased the requirements for maintenance."First off, many have changed the language in the owner's manual from "Recommended" to "Required" maintenance. This single statement is a bold indicator of where they are headed," -John Miller.
Other car lines have also adopted a more aggressive requirement on service. Here are a few examples:
Hyundai, oil change every 3000 miles
Hyundai, recommends a fuel system additive every oil change
Hyundai, change coolant at 60,000 and then every 30,000 after that
Kia, similar to Hyundai, except they REQUIRE a fuel additive every oil change
Nissan Altima, oil change every 5000
Nissan Altima, Transmission fluid change every 20,000
Nissan Altima, brake fluid change every 10,000
Honda Accord, transmission fluid change every 30,000
Honda Accord, brake fluid change every 3 years
Dodge Ram, transmission fluid change every 60,000
Ford Fusion, transmission fluid change every 30,000
Subaru, oil change recommended every 3750 miles, required every 7500 minimum
Subaru, brake fluid every 15,000 miles in high humidity areas
Subaru, transmission fluid change every 15,000
These are samples of the changes in the REQUIRED maintenance for late model cars. It is always best to check your owner's manual for the exact requirements for your particular model.
SEVERE SERVICE SCHEDULES
If you drive in Humble, Kingwood, Atascocita, Fall Creek, Summerwood or any of the other Houston suburbs you need to follow the severe maintenance schedule in your owner's manual. Our temperatures are so high for such an extended portion of the year that regardless of your driving style your vehicle needs additional maintenance. Additionally, it is IMPORTANT to note that manufacturers are enforcing the severe maintenance schedule in many cases for warranty issues. We have had a customer denied warranty repairs on her engine because she was following the normal schedule and not the severe on her car. This is becoming a more common practice as car builders try to minimize warranty costs.
You must follow the severe duty schedule if you have any ONE ­­­of the following conditions:
Ambient temperatures above 90 (Gulf Coast)
High humidity (Gulf Coast)
Dusty conditions (Houston road construction)
Heavy traffic (Houston commuters)
Towing
Police, Taxi, or delivery use
Extended Idle time
Confusing, huh? It is very important to maintain your vehicle and we have seen consistently longer life spans on vehicles that are properly maintained.  Do you have a question about maintenance on your vehicle? Just call or send an email and we will help you develop a personalized maintenance plan that fits you, your vehicle and your budget!  281-540-2000  service@beckwiths.com
Have a question? You can chat online at www.beckwiths.com or use the Beckwith's Car Care handy online form HERE.