You Can Listen Right Here:
With crossover vehicles leading the sales lists, every manufacturer is rushing to the drawing board to capture this expanding market. Mazda's simple improvements easily move the 2016 Mazda CX-5 high on the list of contenders.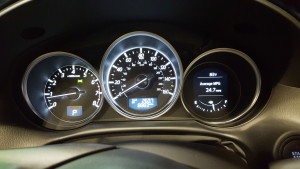 Punctuated by the ever present fun and sporty personality of many Mazda models, this small 5 passenger crossover focuses on the driver experience. It's upgraded interior features include plenty of amenities, comfortable seating, increased insulation for a quiet ride and more than ample storage areas, all in a beautifully trimmed cabin with an attractive dash, upgraded materials and an easy to read, recessed infotainment screen. The exterior follows suite with an aggressive design featuring an updated grille and all new LED head, tail and fog lamps. The real stars of the update show are a nice array of safety features including adaptive cruise control and two separate Smart Brake Support systems which actively apply the brake when it detects a possible front end collision at an array of speeds.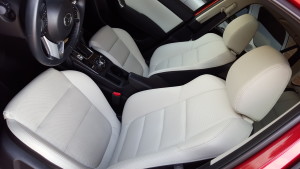 Additionally with Adaptive Front Lighting, Blind Spot Monitoring, Cross Traffic Alert, and All Wheel drive the 2016 Mazda CX-5 was named a 2016 Top Safety Pick Plus by the IIHS when equipped with available Smart City Brake Support.
At 2.5 liters the larger 4 cylinder power source is peppy and still delivers a solid 25/33mpg, just slightly below the fuel ratings for the 2 liter.
Mazda has kept your drive train choice simple, 2 and 2.5 liter 4 cylinders. You will only give up 2 miles per gallon when you insist on the 2.5 liter engine. You'll notice the extra umphhhhh when you press the pedal, and barely notice the difference at the pump. Of course, you will also give up about $3400.
The 2.5 liter four cylinder coupled with a six speed automatic transmission produced adequate power for most driving conditions, but it lacked strong acceleration at highway speeds when navigating busy city traffic. It certainly was not quick enough to even consider downsizing to the 2 liter. If you are looking for a standard transmission, then your only choice is Mazda's base model, the Sport combining a 5 speed standard transmission with the 2 liter engine. Starting at just $21,000 it may be tempting, but take a long test drive to be certain you are happy with the power.
While not the fastest vehicle I've driven, the MX-5 feels and looks sporty and has tight, aggressive handling features. With the feel of a much larger SUV and a high posture (almost that of vehicles on truck frames), Mazda has created a sporty family wagon that steers tight and smoothly in corners without any roll or sway.
FAVORITE FEATURE:
"Command Central"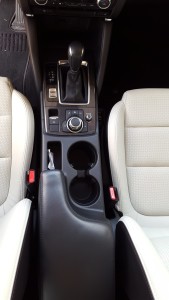 Easy, simple, and ergonomic…perhaps even intuitive the center console features a command center allowing you to switch between infotainment functions without looking away from the road. Just behind the gear shift lever Mazda has located an easy to use joy stick along with button and dial controls that make accessing navigation, music, the home screen and even volume adjustments as simple as using an old school radio.
Small footprint with great function.
Not so old school is the electric parking brake frees up tons of space in the console allowing Mazda to keep the shifter on the floor where it belongs and sporting compartmentalized cubbies for phone, keys and a good sized console box under the arm rest.
Passenger space is plentiful too with ample leg room and an expanded cushion in the rear seat. Second row passengers can sit normally instead of feeling perched on a park bench. Five adults fit, but second row center is tight. The narrow center in the rear does flip down for excellent long item cargo storage while still transporting 4 full size adults easily. Flip all three components of the rear seat down and this Mazda provides almost 65 cubic feet of cargo space.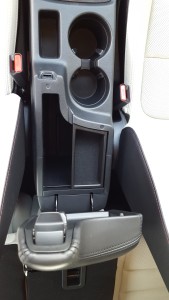 With key-less entry and ignition, text read back, Pandora internet radio, navigation with quiet speed reminders and pop up fuel and restaurant integration the Mazda CX-5 not only provided a sporty and quiet ride it also intuitively connected me both to the road and to my world.
Note the change in the speed limit sign on the left side of the screen, it is white when you are within the limit and turns red when you go over it. Of course, I only sped to illustrate this feature! The third photo illustrates the clarity of Mazda's back up camera, quite impressive.
Mazda's design philosophy has embraced Skyactiv Technology to focus on driving pleasure, the environment and safety performance. Coupling that with KODO – the Soul of Motion – the CX-5 was the first Mazda model to go further than what consumers expect in utility and practicality to create a dynamic driving experience you will notice as soon as you take a seat.
Wishing you miles and miles of happy driving,
Lynn Beckwith
About the Author
With over a quarter of century in the car industry, journalist Lynn Beckwith helps radio listeners across the nation understand the sometimes befuddling world of automotive issues on The Auto MOJO Radio Show, KPRC 950AM Houston every Saturday morning. Listen to podcasts and follow Lynn at www.ThatCarLady.com    www.twitter.com/thatcarlady   www.facebook.com/thatcarlady