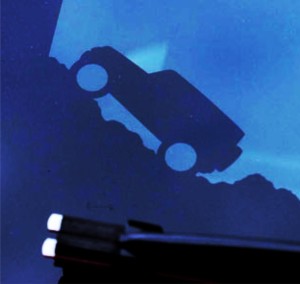 My shiny 2012 Jeep Wrangler sadly  spent more time on the road than in the dirt, but being a member of the Jeep community was an experience that I'm anxious to repeat. The culture surrounding Jeep drivers is one of committed friendship and support. Part of the magic behind Jeep ownership starts at the corporate design level. When you look closely you will find hidden surprises all over your new Jeep.
The one that I noticed first was a small graphic of  Jeep crawling at the base of my windshield. As you hunt for adventure this Easter weekend, have a few moments fun, and start your "Easter Egg Hunt" on your Jeep.
"These Easter eggs – little designs left behind to be found later – can be found in the Jeep Wrangler, Jeep Cherokee, Jeep Renegade and even a few in the Jeep Grand Cherokee." -Jen Herman
As always…Jeeps are full of surprises.
Read more about Hunting For Adventure Show Us Your Easter Eggs!