HOUSTON  – Texans don't play it small, and neither is the Houston Auto Show in celebrating its 35th anniversary. More than 700 of the latest model year imports and domestic vehicles will cover the entire 700,000 square feet of the NRG Center 
January 24-28, 2018
. Experience the anticipation of concept cars, the nostalgia of classics and ultra-luxuries, and test drive nearly 80 different vehicle models at the Houston Auto Show.
The 35th Houston Auto Show, presented by the Houston Chronicle, is the only place where you can see, hear, touch, and even drive, the latest cars and trucks from nearly 40 of the world's top automakers in one location.
The Houston Auto Show, produced by the Houston Automobile Dealers Association includes manufacturer participants such as Acura, Alfa Romeo, Aston Martin, Audi, BMW, Buick, Cadillac, Chevrolet, Chrysler, Dodge, Fiat, Ford, Genesis, GMC, Honda, Hyundai, Infiniti, Jaguar, JEEP, Kia, Land Rover, Lamborghini, Lexus, Lincoln, Lotus, Mazda, Maserati, Mercedes Benz, MINI, Nissan, Porsche, Ram, Toyota, Subaru, Volkswagen and Volvo.
"As the city continues to replace the more than 300,000 vehicles lost to the devastating Hurricane Harvey, we're excited to bring the Auto Show back to its January dates," said RoShelle Salinas, vice president of the Houston Auto Dealers Association. "This is a great time of year for car buyers to comparison shop more than 700 vehicles in one place, and later benefit from sales incentives at local dealerships."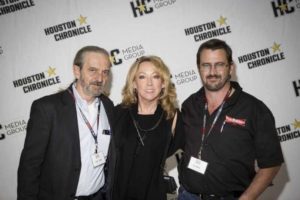 The 2018 show includes highlights such as additional test drive opportunities inside and outside of NRG Center and it welcomes back CAMP JEEP. Manufacturers often include engaging activities in their displays like photo booths, games and many giveaways. Guests will also experience the unveil of vehicles brand new to the market, like the all-new Jeep Wrangler, the Texas debut of the Nissan Leaf and see the reveal of a new truck model – yet to be named. Nissan will also display their Star Wars: The Last Jedi inspired concept vehicles, the Titan AT-M6 and the Captain Phasma Maxima.
To commend the brave and honorable work of Houston's first responders, the Houston Auto Show and Houston Automobile Dealers Association will host a First Responders Day on 
Thursday, January 25, 2018
. First Responders with a valid I.D. will have the opportunity to enter the Houston Auto Show for just $1. Various first responder agencies will be honored with a special ceremony at 
11:30 a.m.
 in the lobby of NRG Center before doors open to the public.
New exhibitors will fill an expanded Aftermarket Expo with everything that takes automobiles to the extreme. Displays include innovative companies that convert vehicles into fresh eye-candy with car wraps, lift kits, tires and rims, and even bed-liners. Finally, for the automotive purist, the Houston Auto Show will also exhibit more than 50 classic vehicles throughout the lobby of NRG Center and in a specialty classic car sections.
The 2018 Houston Auto Show at the NRG Center is open daily, 
Wednesday, Jan. 24 through Sunday, Jan. 28
.  Show hours are:
Wed. – Fri. 
Noon – 9:30 p.m.
Saturday
10:00 a.m. – 9:30 p.m.
Sunday
10:00 a.m. – 7:00 p.m.
Adult tickets are $12 and $5 for children six to 12 years old when accompanied by an adult, kids under six are free. From 
Wednesday
 to 
Friday
, coupons for $2 off are available online and at participating Houston area new car dealerships. For more information, visit 
www.houstonautoshow.com.
-That Car Lady, Lynn Beckwith
CBS Sports Radio AM650
Saturday's 2pm to 4pm