With the normal array of quiet grey and white colors as norm, it was exciting to see the 2019 Chevrolet Tahoe decked out in Siren Red (well worth the $500 upgrade). The Chevrolet Tahoe has long been one of the most popular full size SUV's on the market sporting a 20 plus year history.
First Impression
Well, "big" may describe it best. The 2019 Chevrolet Tahoe is a full size truck and has both the bulk and geometry you expect from a body on frame vehicle. There are a lot of SUVs on the market today that fall short of truly fitting into the truck classification of vehicle. Not so here.
The automated drop down running boards provide a smooth entrance, even in heels. Once you are behind the wheel you will immediately recognize the full size truck capability of the Tahoe.
Notable Specifications – 2019 Chevrolet Tahoe
The Chevrolet website will give you more specifications than you can digest. Here are a few of the notable specs:
I'm a Big Boy
116″ Wheel Base – This long wheel base pushes the rear of the vehicle back far enough to squeeze in a third row of seats. Like so many 3rd rowers the back area is designed as temporary transportation when you have adopted too many of the neighborhood children for the weekend. If your family is large enough to need that extra row on a regular basis you should consider the Chevrolet Suburban.
Daddy Long Legs – No Problem
Second row leg room comes in at almost 40 inches…that is over 3 feet! When coupled with captain chairs in the second row you feel like you are lounging in your living room recliner.
Dead Bodies or Cinder Blocks – Lots of room for either one
Automatic folding 2nd and 3rd row seats provide for instant cargo access. This makes impulse buys at the local hardware or furniture store easy. When both rows are folded away, the 2019 Chevrolet Tahoe has 94.7 cubic feet of cargo area and an 1844 lb. maximum payload capacity.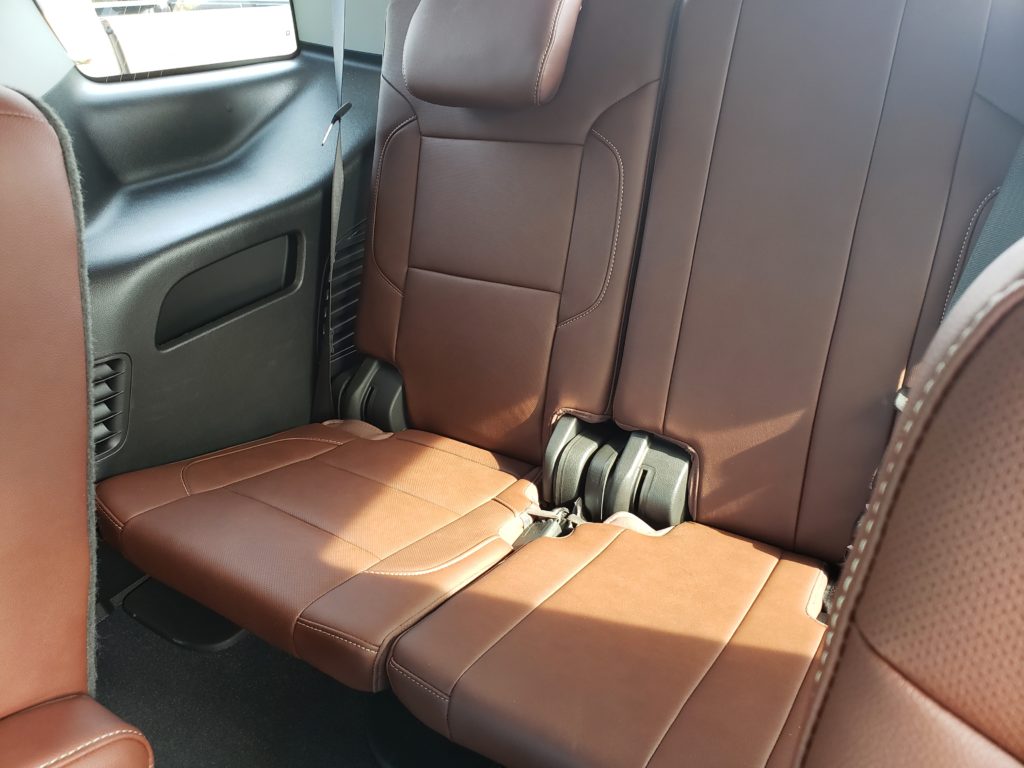 Second row leg room, zoned climate control and entertainment.


Drop down entertainment with remote



Select your size, but big rules in this SUV


The Ride
While the interior of the 2019 Chevrolet Tahoe is loaded with luxurious features it's body and soul is all truck. The ride is acceptably smooth, however you still know you are in a meaty, capable hauler. So, pack it full with the soccer team and load up your trailer to tow your toys to the deer lease.
A myriad of safety features will remind you of vehicles in your blind spot, help you brake at slower speeds, and warn you of a forward collision. It will even help you park and maintain your lane. Surprisingly the Premier Plus Edition lacked adaptive cruise control, one of my favorite new vehicle features.
The Drive…Train
With a choice between two V-8 powerhouse engines your decision may rest more with the transmission you desire than the horsepower difference between these two engines. Chevrolet's 10 speed automatic transmission is only paired with the 6.2 Liter V-8 which enables the larger engine to give you better fuel economy than the smaller one does. Granted you are not buying this vehicle to be fuel efficient. There is no hyper-miling this behemoth, but as fuel prices rise mpg sometimes plagues our thoughts and nightmares.
At 80 miles per hour the 6.2 still has plenty of get up and go to push you back and get you out of (or into) trouble on the freeway. It's high-capacity air filter is just one feature that helps keep your accelerator responsive. The 6.2 liter engine coupled with Chevrolet's 10 speed automatic transmission is the power train this humble journalist would chose.
Road Noise in the 2019 Chevrolet Tahoe
Frankly, I expected a quieter ride. Perhaps it was the price tag that had me thinking smooth, luxury and silent driving, but the 2019 Chevrolet Tahoe quickly reminded me of its stature as a real honest to goodness working truck. It is all dressed up for prom and is way quieter than you Dad's pick up truck, but with 22″ rims and large off-road capable tires you remain aware that you are actually driving a vehicle that is capable of pulling your boat or RV. Plus, the four wheel drive feature will have you high tailing it across muddy terrain at your favorite Off Road Park or deer lease.
Voice Recognition – Infotainment
Not all infotainment systems are created equal and the 2019 Chevrolet Tahoe's navigation and infotainment gear was top bar. The hidden genie quickly recognized voice communication and responded intuitively to commands.
Looks Smart, Feels Tough
Whether you are a Mom Taxi or looking for an impressive ride the 2019 Chevrolet Tahoe will meet all of your large SUV needs. It looks smart, and despite it's luxurious leather, vivid infotainment system and hidden, drop down video screen you will immediately feel the tough truck qualities of this full size SUV.