Rivian plans to build 100,000 all-electric delivery vans for online retailer Amazon
Battery technology continues to improve as does the variety and depth of available electric vehicles. Despite a history of short driving ranges the electric vehicle industry has been soaring over challenges and bringing more clean driving to our roads. Additionally, your choices are not limited to traditional manufacturers. The market is proving itself open to all!

Do you already own an electric vehicle? The technicians at Beckwith's Car Care are up-to-date and ready to help you with any service needs!

-Lynn Beckwith, That Car Lady

Tesla's prototype space age styled truck may be too extreme for the adventurous off road crowd they seem to be targeting. Sadly, they seem to have buried some amazing technology in a body that resembles a backwards DeLorean. The metal looks difficult to repair and makes me wonder if it's shiny future may lie in the wanna be city slicker market.
Electric vehicles are a perfect fit for the off road community especially when considering the immediate and controllable torque you can apply to each wheel. Couple a speed rating of Zero to 60 in just 3 seconds with 11,000 lbs of towing capacity and Rivian is bringing a real truck to the market.
Worried about range? While there are a slew of variables when it comes to the actual range you will receive from any electrical vehicle, Rivian's 400 mile claim is a good indication of this vehicles potential.
Ready to be one of the first? Rivian is taking pre-orders now for a $1000 down.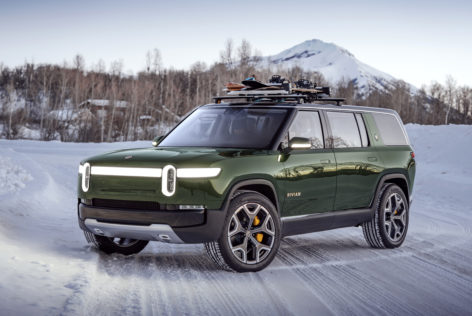 Press Release from Rivian follows:
Rivian has closed an investment round of $1.3 billion. The financing was led by funds and accounts advised by T. Rowe Price Associates, Inc.
Amazon, Ford Motor Company and funds managed by BlackRock also participated in the round.
"This investment demonstrates confidence in our team, products, technology and strategy – we are extremely excited to have the support from such strong shareholders," said Rivian Founder and CEO RJ Scaringe.
The investment announcement is Rivian's fourth of 2019. In February, Rivian announced a $700 million funding round led by Amazon. In April, Rivian announced that Ford Motor Company invested $500 million and that the companies would collaborate on a vehicle project utilizing Rivian's skateboard platform. In September, Cox Automotive announced its $350 million investment in Rivian, complemented by plans to collaborate on logistics and service. In addition to these investments, in late September, Rivian announced it was collaborating with Amazon on the development of an electric delivery van utilizing Rivian's platform technology and that 100,000 of these vans had been ordered with deliveries starting in 2021.
Starting with a clean sheet, Rivian has developed its vehicles with adventurers at the core of every design and engineering decision. The company's launch products, the R1T and R1S, deliver up to 400+ miles of range and provide an unmatched combination of performance, off-road capability and utility. These vehicles use the company's flexible skateboard platform and will be produced at Rivian's manufacturing plant in Normal, Ill., with customer deliveries expected to begin at the end of 2020.
No new board seats have been added, and additional details about this investment are not being disclosed at this time.
Rivian is developing vehicles, technology and services that inspire people to get out and explore the world. Rivian has development centers in Plymouth, Mich.; San Jose, Calif.; Irvine, Calif; Vancouver, Canada, and Surrey, England; along with a 2.6-million-square-foot manufacturing plant in Normal, Ill. Rivian will launch its products in the US in late 2020, with introduction to other global geographies starting in 2021. Rivian is now accepting preorders on its R1T and R1S. More information is available at rivian.com.