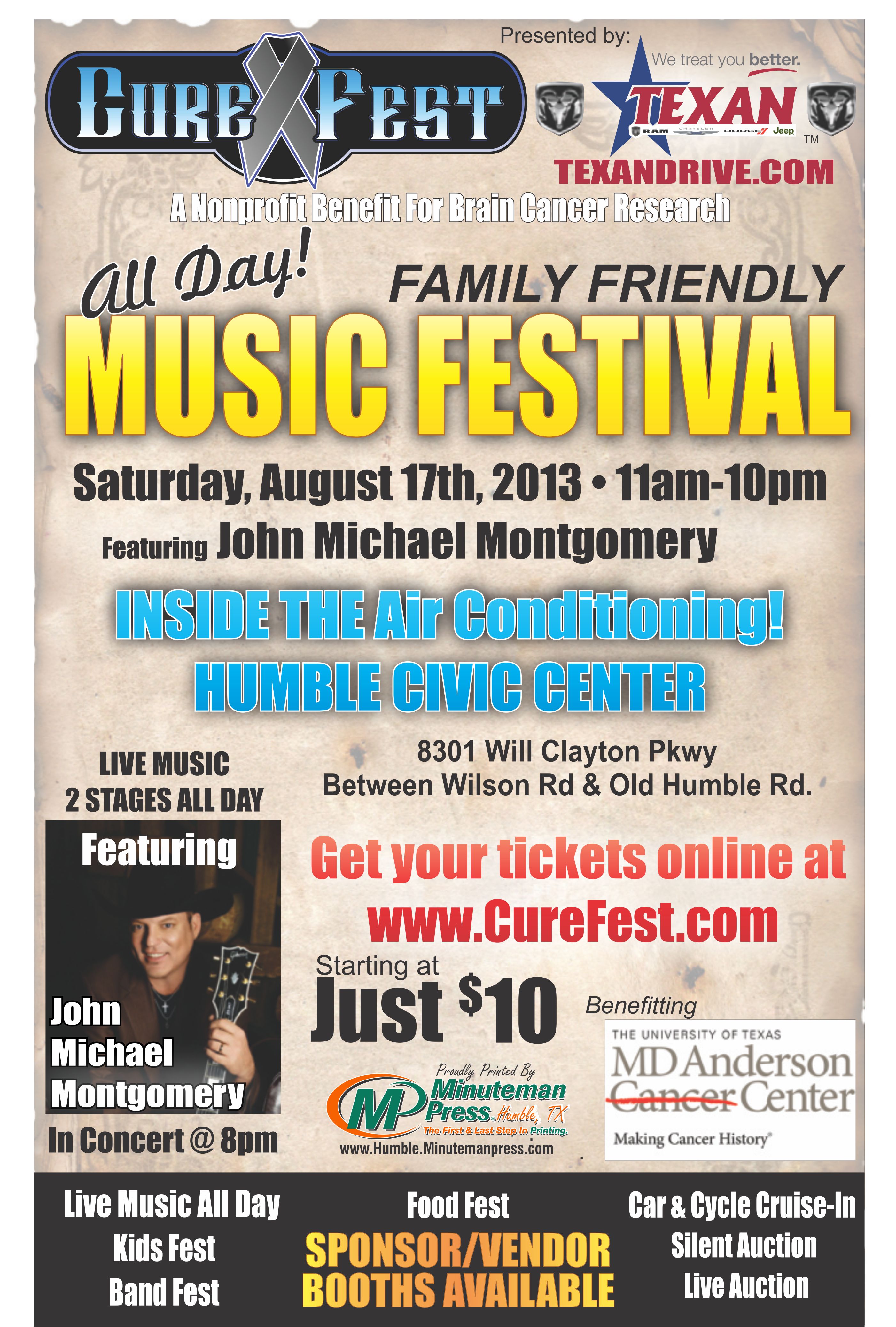 CureFest's 2nd Annual MusicFest Gains Momentum
Humble – For the second year in a row, Phil and Misty Baumann are just blown away by the community supporting their search for a cure for brain cancer. "Texan Dodge has come on board as our title sponsor for this year's MusicFest [August 17th at the Humble Civic Center], and we couldn't be more happy to have such a team- and community-oriented supporter. Bert Brocker and his team are amazing," quipped Misty, as her eyes teared up over their generosity and support.
The call for volunteers has begun to echo through the community, "In order for this event to be a success, we rely heavily on our sponsors, our volunteers and the community of people who enjoy coming together for a cause and hearing some fantastic bands," commented Lynn Beckwith, Phil's sister, who is a key player in organizing the event. "We need everything from ushers for the concert to security and ticket-takers. We were overwhelmed with the out-pouring of volunteers last year; and this year we know it will be no different." TheCureFest.com website now features a button for volunteer sign-up on the home page that provides details for those interested in volunteering.
This year's MusicFest presented by Texan Dodge will be the largest music festival this area has ever seen, with more than a dozen well-known bands performing throughout the day. The event culminates in an intimate concert with John Michael Montgomery. Tickets have already begun to sell, and as of press time there were only about a dozen front-row tickets left.
Longtime local favorite, Lawler's has reached out to sponsor BandFest, the outdoor music stage; and in the spirit of stewardship for which they are known, construction & mining powerhouse Kiewit has stepped up to sponsor the outdoor CoolZone, where event-goers will have the opportunity to sit and listen to music, enjoy food and beer, and be kept cool under tents with cooling fans. This will be the perfect spot for parents to chill while their children live it up in the KidsFest area sponsored by Kids Playce Learning Center & Daycare, which will feature moonwalks, rock wall climbing, extreme bungee, face painting, spin-art and more.
This year's MusicFest will also feature more than 75 vendor booths—featuring everything from local community services to fashion accessories, health products and more. Interested vendors are encouraged to sign up quickly, as last year's spaces sold out quickly. Booths start at only $125, with all proceeds benefitting brain cancer research, and signup forms are available on the CureFest.com home page.
Another feature last year's event-goers are already asking about are the silent and live auctions. Hailed as one of the best at any fundraising event they've ever attended, guests are already asking for inside information on what will be available. Last year, Steve Burgess and Mike Riley got in a bidding war over a custom painted, tricked-out golf cart, painted by Phil himself; and Steve wound up with it. "It was one of the most hotly contested items in the auction," Phil smiled, remembering the excitement. The auctions contained everything from exotic fishing and hunting trips to Texans Tickets, to auto graphed memorabilia from NFL Players like Troy Aikman and music groups such as the Zac Brown Band. The group expects this year to be no different, and asks anyone in the community who would like to donate something for the auction to reach out to them through the website or by calling 281-973-0409.