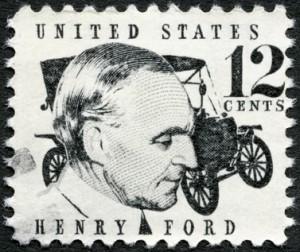 This week in automotive history Henry Ford took his very first order for the very first car that the Ford Motor Company would produce. On July 15,1903 a Chicago dentist, Ernst Pfenning, placed an order from the newly formed Ford Motor Company for an $850 Model A. The bright red vehicle would seat two people, did not have a top, and its two cylinder engine was the most powerful available with a whopping 8 horse power.
Henry's assistant C. Harold Wills was responsible for most of the vehicle's design.  With Packard and Oldsmobile as competition Ford rolled vehicles out of a production facility that was just 50 x 250 feet.
From this modest facility Ford turned out 215 vehicles in the first two months and hit 1000 by year end. Just over 100 years later Ford Motor Company was producing more than 2 million vehicles a year.
This week also brought a second automotive milestone that also involved Henry Ford and an alliance with George Washington Carter. After years of correspondence and repeated trips, Ford convinced Carter to come to Dearborn, Michigan and help him develop a synthetic rubber to use during the war. This was a time when rubber faced serious shortages.  In mid-July 1942 Carter arrived to help set up a laboratory in an old municipal building near Dearborn. They experimented with sweet potatoes and dandelions ultimately developing a synthetic rubber made from goldenrod – a weed.
Ford also worried about the future availability of gasoline and the earth's ability to regenerate. He researched alternative crops such as grains to make ethanol and even made a car with body parts produced from soy beans.
While both Ford and Carter died in the 1940s the Ford Motor Company and Carter's Tuskagee Institute continued their relationship. Henry Ford revolutionized the automotive industry with innovations that seem to have come beyond his time. We tip our hat to you.
That Car Lady – Lynn Beckwith