She Said:
My initial shock at the $57,190 price tag was quieted after I spent a few days driving the 2014 Jeep Grand Cherokee Summit 4X4 Eco-diesel. With the base Jeep Grand Cherokee starting at just $29,195, I initially wondered how could Jeep possibly add enough stuff to almost double the base price? Well, they did. It is loaded with amenities and comfort. Efficient and durable, the 2014 Jeep Grand Cherokee Diesel provides a comfortable and amenity rich interior and unlike its crossover counterparts lives up to the SUV and utility vehicle designation. It also qualifies as one of the larger mid-size vehicles on the road.
Choosing your perfect Grand Cherokee will be a daunting project this year with five editions to choose from: The Laredo, Laredo E, Limited, Overland and Summit. Jeep has a Grand Cherokee to fit most any budget and specification from soccer Mom to Executive. Fully appointed, this SUV will take you to a luncheon with business associates or give you plenty of room for kids and gear on the way to the soccer field. With its four wheel drive options you can drive it right to the middle of the muddy field if you want.
From car-pooling to towing, a broad range of powertrains including a 3.6L V6, 5.7L V8 Hemi, and the 3.0L V6 ECODiesel are available and help diversify the vehicles use. The 8 speed automatic transmission makes for seamless shifting and automatic controls keep off-roading novice proof.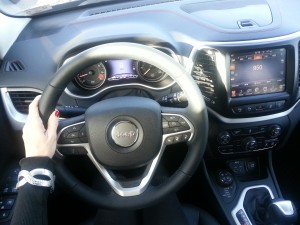 Our test vehicle, The Turbo Diesel V6, seemed slightly underpowered, especially from acceleration at highway speeds. While previously criticized for poor fuel economy, Jeep does have the Grand Cherokee shining at the fuel pump with improved mileage in all its power train options. At 21 city and 28 highway it is not bad for a full size vehicle with strong towing capacity
We see some variation of ECO mode on almost every vehicle we test these days and universally the systems are designed to improve fuel economy. On the Jeep Grand Cherokee it includes adjusting the shift points in the transmission, controlling idle speed, shutting off the fuel supply during deceleration, and cylinder deactivation on V8 models. The ride height is even brought back to a more aerodynamic level when you pop over 55mph thanks to Jeeps optional air suspension system.
Jeep's optional off road package provides an adjustable air suspension that both lowers for easy entry and rises for an additional 2.1 inches of ground clearance. Ride height has always been a problem when bouncing over bumpy trails.
This vehicle is the perfect family road trip vehicle. From paddle shifters to its comfortably appointed interior you will enjoy winding through country roads or touring down the highway. The powertrain won't completely drain your wallet at the gas station and the real fun will come when you find a side trail to explore. Dial it into off road mode with Jeep's easy to use Selec-Terrain system and get the pretty chrome wheels muddy.
The 2014 Jeep Grand Cherokee is a unique combination of off road durability, a sleek exterior design and a comfortable amenity rich interior.
I'm holding out for the SRT performance edition!
Lynn Beckwith, That Car Lady

He Said:
For many years the Grand Cherokee has been the backbone of the Jeep line and often one of the most popular selling vehicles in America. The new 2014 Jeep Grand Cherokee Diesel will only strengthen the line by offering an optional power plant that meets the driver's needs of performance and economy.
The Grand Cherokee has 4 power options; the 3.6 liter, turbo charged V6 Pentastar, a 5.7 Hemi, the awesome SRT8 with a 6.2 Hemi and the 3.0 liter turbo EcoDiesel. While the EcoDiesel may be the smallest displacement offered, it has a lot of bang for the buck with 420 pound feet of torque, just a few less than the SRT model. The high torque gives the Grand Cherokee plenty of off the line acceleration and towing capacity equal to the 5.7 Hemi engine.
Using new technology ceramic glow plugs, the start time on a cold engine is almost as fast as the gas counterparts. Common rail diesel injection boosts power and reduces emissions. The turbo charger kicks the power up fast and, when mated to an 8 speed electronic shift transmission that can keep the diesel in its best torque band, the Grand Cherokee gives smooth and pleasingly quick acceleration. 0 to 60 time is about 7.9 seconds and the fuel economy rating is 21 city and 28 highway, not bad for a midsize SUV. The diesel offers better fuel economy than the base V6 engine.
With all of the attention on the diesel power plant, it is easy to overlook what made the Grand Cherokee so popular to begin with. It is a comfortable, stable and well appointed ride. Depending on the model you choose it can be a pretty basic family or work hauler or a luxurious and socially acceptable competitor to Lexus, Mercedes and Porsche.
Our test car was very well equipped with Nappa leather, air suspension, 8.4 inch navigation screen, blind spot monitor, parking sensors, collision warning, heated and cooled seats, a full infotainment system with Bose Stereo, keyless entry and start, LED daytime running lights, 4WD, power memory seats with power lumbar and adaptive cruise control. On our Summit model there is also an optional rear seat Blue-ray DVD player available. With the diesel option and all the goodies it pushed the price to 56K, but you don't have to break the bank to get into a Grand Cherokee. Starting price for the Laredo model is only just under 30. The SRT model strains reality at over $63,000.
Driving the Grand Cherokee is a pleasure with a great combination of power and luxury. Air ride suspension gentles the roughest roads and allows adjustment in height for off-roading. It also has a lowering feature for exit and entry. The diesel is a little noisy, but nothing compared to the diesels of old. The muted compression rattle of the Ecodiesel is just a subtle reminder that you are doing your part for the economy and the ecology by choosing the most fuel efficient model offered. Acceleration is smooth and continuous from stops, although a bit soft when hitting it from highway speeds. The roomy cabin surrounds the passengers with all of the latest technology from safety to entertainment.
My likes on this vehicle are too numerous to list and my dislikes are more from personal taste than anything wrong with the car.
John Miller, The Car Counselor Show
My initiaThe 
Ready to buy a new or used Chrysler, Dodge, Jeep or RAM – There is only one place the Auto MOJO Trio go – you guessed it – we would go see someone we trust – Don Ruguleiski at Mac Haik!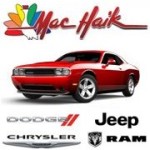 ep pos
Mac Haik Chrysler, Dodge, Jeep and RAM
Don Ruguleiski
11000 North Fwy, Houston, TX 77037
(281) 915-1220
sibly add enough stuff to almost double the base price?