Working in an industry that is not only hungry, but desperate for new talent can be challenging for everyone involved. The automotive industry presents an outstanding opportunity at many levels. FCA is helping create interest and even passion for innovation among American youth. Kudos to FCA for the large donation to this robotics competition. FCA continually invests in youth programs through the FCA Foundation and since its origin in 1953 has contributed more than $500 million to initiatives that help empower and build strong communities.    – Lynn Beckwith
From the Chrysler Newsroom:
FIRST Robotics Teams Gear Up for "First Stronghold" With $250,000 From FCA Foundation
Grants enable Arizona, Illinois, Indiana and Michigan teams to compete for robotics championship. For a complete list of competing schools, you can read more here.
January 5, 2016 , Auburn Hills, Mich.
– The FCA Foundation, the charitable arm of FCA US LLC, today announced $250,000 in grants to FIRST Robotics Competition (grades 9-12) and FIRST Tech Challenge (grades 7-12) teams in Arizona, Illinois, Indiana and Michigan. The grants will offset the costs associated with items such as registration fees, parts and materials and team apparel for an estimated 650 students."The real-world experience that students gain through their participation in FIRST programs is invaluable in preparing students for the future," said John Nigro, Vice President – Product Development, FCA – North America. "We are equally proud of our employees who generously give their time and skills to help mentor students and serve as competition coordinators."The FCA Foundation's grant announcement coincides with the official start (Jan. 9) of the 2016 FIRST Robotics design and build season. During this six-week phase, teams will build, program and test robots with the guidance of adult mentors. It's estimated that more than 3,100 teams comprised of 78,000+ students from around the world will compete for glory in
First Stronghold
, this year's design challenge. Teams that win their regional qualifiers will compete for the 2016 FIRST Championship at the Edward Jones Dome, April 27-30, in St. Louis.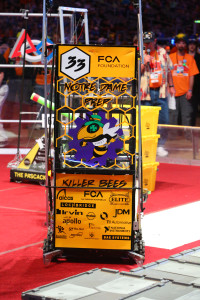 "We are proud to support an organization that taps into such formidable minds and encourages deeper levels of ingenuity within the pillars of STEM," said Lesley Slavitt, Head of Civic Engagement, FCA US LLC, and CEO of the FCA Foundation.